Yes, you read the title right. No, I haven't lost my mind. I'm still all about the Winchester family and the brothers Sam and Dean. I just decided, what the heck?

With Season 5 upon us and many guest characters returning to the show, I thought it was time for a couple of more friending memes. Today I wanted to a host a little Dean/Jo Friending Meme.

I don't consider myself a hardcore shipper and I'm in no way a diehard, but as time has passed I've warmed up to the idea of Dean/Jo. I don't need to see it on screen, but when it's hinted at I don't complain. I thought it would be nice to meet some other people that liked the pairing and since Season 2 passed ages ago, it would be a nice way for new fans and old fans of Dean/Jo alike to meet each other.

Please beware there could be Season 5 spoilers through 5x02 in the comments. I ask to not spoil anything past the currently aired episode please.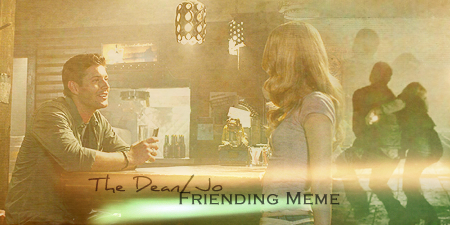 THE CODE
PIMP IT